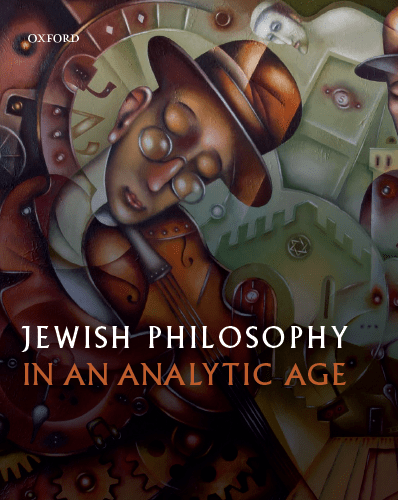 The Association for the Philosophy of Judaism is pleased to announce the publication of Jewish Philosophy in an Analytic Age, edited by Sam Lebens, Dani Rabinowitz, and Aaron Segal (Oxford University Press, August 2019).
Description:
Since the classical period, Jewish scholars have drawn on developments in philosophy to enrich our understanding of Judaism. This methodology reached its pinnacle in the medieval period with figures like Maimonides and continued into the modern period with the likes of Rosenzweig. The explosion of Anglo-American/analytic philosophy in the twentieth century means that there is now a host of material, largely unexplored by Jewish philosophy, with which to explore, analyze, and develop the Jewish tradition. Jewish Philosophy in an Analytic Age features contributions from leading scholars in the field which investigate Jewish texts, traditions, and/or thinkers, in order to showcase what Jewish philosophy can be in an analytic age. United by the new and engaging style of philosophy, the collection explores rabbinic and Talmudic philosophy; Maimonidean philosophy; philosophical theology; and ethics and value theory.
Table of Contents:
1: Introduction, Samuel Lebens Dani Rabinowitz, and Aaron Segal
PART I: TALMUDIC AND RABBINIC PHILOSOPHY
2: Talmudic Destiny, Eli Hirsch
3: Metaphysics out of the Sources of the Halakha or a Halakhic Metaphysic?, Aaron Segal
4: A Jurisprudential Puzzle as Old as the Talmud, Jeffrey S. Helmreich
5: A Commentary on a Midrash: Metaphors about Metaphor, Samuel Lebens
6: Catharsis and the Epistemology of Repentance in the Talmud and Jewish Law, Dani Rabinowitz
PART II: MAIMONIDEAN PHILOSOPHY
7: Hume and Maimonides on Imaginability and Possibility, Mark Steiner
8: Dispassion, God, and Nature: Maimonides and Spinoza, Daniel Frank
9: Maimonides and his Predecessors on Dying for God as "Sanctification of the Name of God", Josef Stern
PART III: PHILOSOPHICAL THEOLOGY
10: The Fabric of Faith, Howard Wettstein
11: Should Theists Eschew Theodicies?, David Shatz
12: A Proof of Exodus: Yehuda HaLevy and Jonathan Edwards Walk into a Bar, Tyron Goldschmidt
13: Atzmut and Sefirot: A New Approach, Joshua Golding
PART IV: ETHICS AND VALUE THEORY
14: The Morality of Biblical Deception: Misleading Truths, Geneivat Daat, and Jacobs Deception of Isaac, Shira Weiss
15: Neither Authoritarian nor Superfluous: A Normative Account of Rabbinic Authority, Yonatan Y. Brafman
16: A Classical Jewish Approach to The "Normative Question", Melis Erdur
17: The Good, the Bad, and the Nonidentity Problem, Saul Smilansky
PART V: SYMPOSIUM
18: Jewish Studies and Analytic Philosophy of Judaism, Tzvi Novick, and Samuel Lebens, Dani Rabinowitz, and Aaron Segal
The APJ plans to run online symposia on several chapters in the book during the course of 2020.