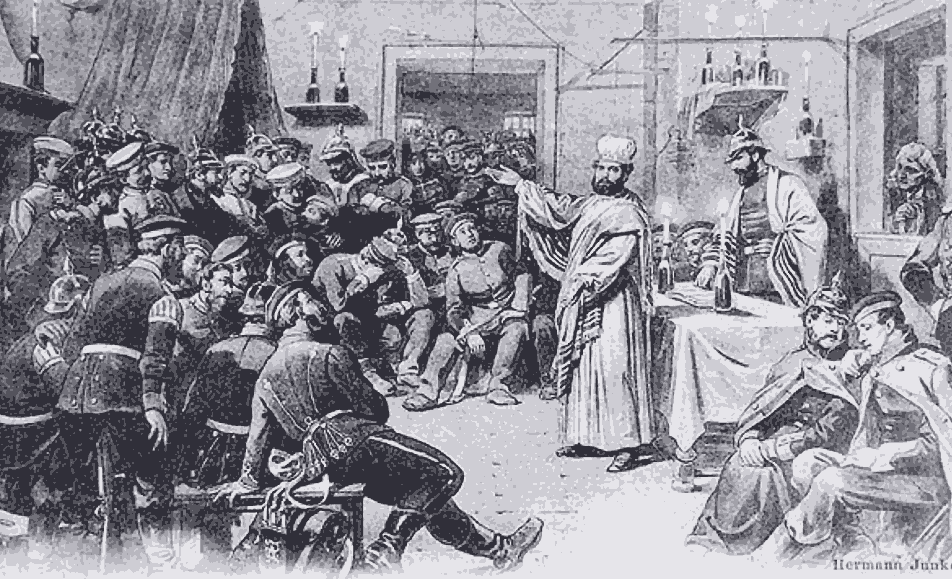 Leopold Zunz (1794-1886) famously remarked that the Jewish Middle Ages did not come to an end until the French Revolution. He was making the important point that a state or religion does not become modern simply because it is exists in modern times. To be modern it must engage with modernity. The French Revolution facilitated that engagement by setting in train events that would lead to the tearing down of the ghetto walls, and with them the intellectual walls that some hoped would keep modernity at bay.
Those intellectual walls did crumble, and in the nineteenth century the Enlightenment came flooding in. Surfing the wave were the disciples of Moses Mendelssohn (1729-1786). They took their master's teachings and disseminated them across the Jewish world. Mendelssohn was a philosopher and in his magnum opus Jerusalem and elsewhere he presented an interpretation of Judaism that made it compatible with the insistence on reason that dominated Enlightenment thought. In other words, Mendelssohn set out a philosophy of Judaism suited to the modern mind.
A contemporary observer might have predicted that Mendelssohn's approach would come to dominate the intellectual life of those Jews who sought to engage with modernity, that modern Judaism would have a strong philosophical component, that Jewish scholars would devote serious attention to philosophy and that there would be an outpouring of Jewish philosophical works. It is interesting that this did not happen.
In fact, the greatest Jewish scholars of the last two hundred years, working in a modern vein, were not philosophers. Zunz himself was a founder of the Wissenschaft des Judentums, which was essentially a text based enterprise. He and his followers were historians and philologists, not philosophers. The great seminaries of Europe and America were filled with such scholars, including Zacharias Frankel, Heinrich Graetz, Abraham Geiger, Esriel Hildesheimer, David Hoffman, Adolph Buchler, Solomon Schechter, Samuel Luzzatto and Saul Lieberman. These men studied texts, published critical editions and wrote biographies and histories. They may have described how certain Medieval philosophical schools developed, but they did not engage in original philosophical work. 
There were those who vociferously opposed Wissenschaft, led by Samson Raphael Hirsch, but they were not philosophers either. Hirsch constructed an impressive and often beautiful vision of Judaism. It was by no means traditional, but rather modern Midrash and certainly not rigorous philosophy. Even when Wissenschaft lost its appeal, the Hirschian interpretation of Judaism has retained a passionate following. An aspect of Hirsch's approach that has survived less well is his enthusiastic attachment to Western culture, which was horribly discredited when fellow adherents of that culture perpetrated the Shoah.
The philosophical enterprise fared much less well than both Wissenschaft and Hirschian Judaism. After Mendelssohn philosophical work fell into abeyance. The reasons for this were several. First, the apostasy of most of Mendelssohn's children and many of his disciples discredited the philosophical project. It that is where it led those with a commitment to the future of Judaism felt they were better off without it. Secondly, unlike the eighteenth century, in the nineteenth century the dominant intellectual mode was textual-historical. That was the focus of work in the great European universities. The German school of historians turned their attention to the preservation and publication of the great works of their history and produced the Monumenta Germaniae Historica. Jewish scholars wanted to do the same for their heritage.
Thirdly, Mendelssohn's disciples became busy with other projects, primarily transforming the educational methods used in Jewish communities. The work to reform the heder and introduce secular studies into the yeshivot, in order to implement the practical aspect of Mendelssohn's programme distracted from further philosophical activity. Fourthly, as a result of this activity there was huge resentment in traditionalist circles towards Mendelssohn and the Enlightenment, and 'maskil' remains a dirty word in many circles. Philosophy was seen as the enemy. Fifthly, from the turn of the twentieth century, non-rational elements of Judaism attracted more attention in those Jewish streams that might have engaged in philosophy. Buber, Rozensweig and Scholem all turned their attention to Kabbalah and Hasidut, sometimes simply as scholars, but sometimes to enliven their personal religion and influence others.
There were certainly exceptions. The Immanuel Kant found a great following among some sections of Judaism. Isaac Breuer, grandson of Hirsch, was a dedicated Kantian. The leaders of American Reform Judaism crafted their declaration of principles, the Pittsburgh Platform of 1885, under strong Kantian influence. The greatest neo-Kantian philosopher was Hermann Cohen, who did develop a thorough-going philosophy of Judaism based on Kant's principles. And it is through Cohen that philosophy re-entered the Jewish mainstream.
The man who reintroduced philosophical inquiry to Judaism began his Western intellectual life as a student of Hermann Cohen, that man was Joseph Soloveitchik. Soloveitchik wrote his PhD on Cohen and continued to try to reconcile autonomous Kantian ethics with a heteronymous halakha. Soloveitchik also engaged deeply with Kirkegaard and existentialism. Although he did not produce formal and systematic philosophical treatises, his major works, especially Halakhic Mind and some of his collected addresses are rich with philosophy. The study and analysis of Solovietchik's work among his many followers has made philosophy part of the Jewish mainstream once more.
It is striking, then, that modern Judaism which began when traditional Jewish thought engaged with philosophy turned away from it decisively for a century and a half, has now moved back towards it. Wissenschaft no longer appeals, Western culture cannot be so warmly embraced in a post-Holocaust world. It seems that the ghost of Mendelssohn has been laid to rest, and the Jewish philosophical moment has returned.